Appointments
In order to book your

first visit

to MAS, please call us
in either Manchester or Nashua,
so we can set you up with the necessary information.
Manchester - (603) 669-0808
Nashua - (603) 579-0320

As we're open in Manchester everyday (365 days/year!), and 6 days/week in Nashua at this time, keep in mind we can book your appointment for either location from either location. So if, for example, you don't reach us in Nashua (on say a Sunday when the clinic is closed) call over to Manchester during our working hours and we'll get you set up no problem.
Existing patients who never received an email from MAS with your temporary password, please let us know if you'd like to use the online scheduler, and we will set you up with a password to make this happen.

For existing patients using the online scheduler, please know your email address is your unique username in our scheduling system – it's tied to your account and appointment history. If you'd like to change the email address you use for online scheduling, email us and we'll get that set up for you, no problem. Please don't re-register a second time.
Returning patients, click here to link to the MAS Online Scheduler.


About Walk-Ins

Many of our patients appreciate being able to make same-day appointments. We get it – you don't always know ahead of time when you will want acupuncture, and if you suddenly get a free hour, you might want to fill it with a treatment! But we also really hate to turn anybody away. So while we try to accommodate walk-ins whenever possible, we ask that you please make an appointment, even if it's only calling ahead to make sure there's room in the schedule before you leave your house. If you show up without calling, you are taking the chance that we might be 100% booked for the next few hours or even the whole day – it doesn't happen often, but it does happen. If you walk in without an appointment, we need to treat the people who have appointments before we treat you, so you might have to wait a lot longer than we'd like.

Here are the latest clinic schedules (starting November 20th, 2019):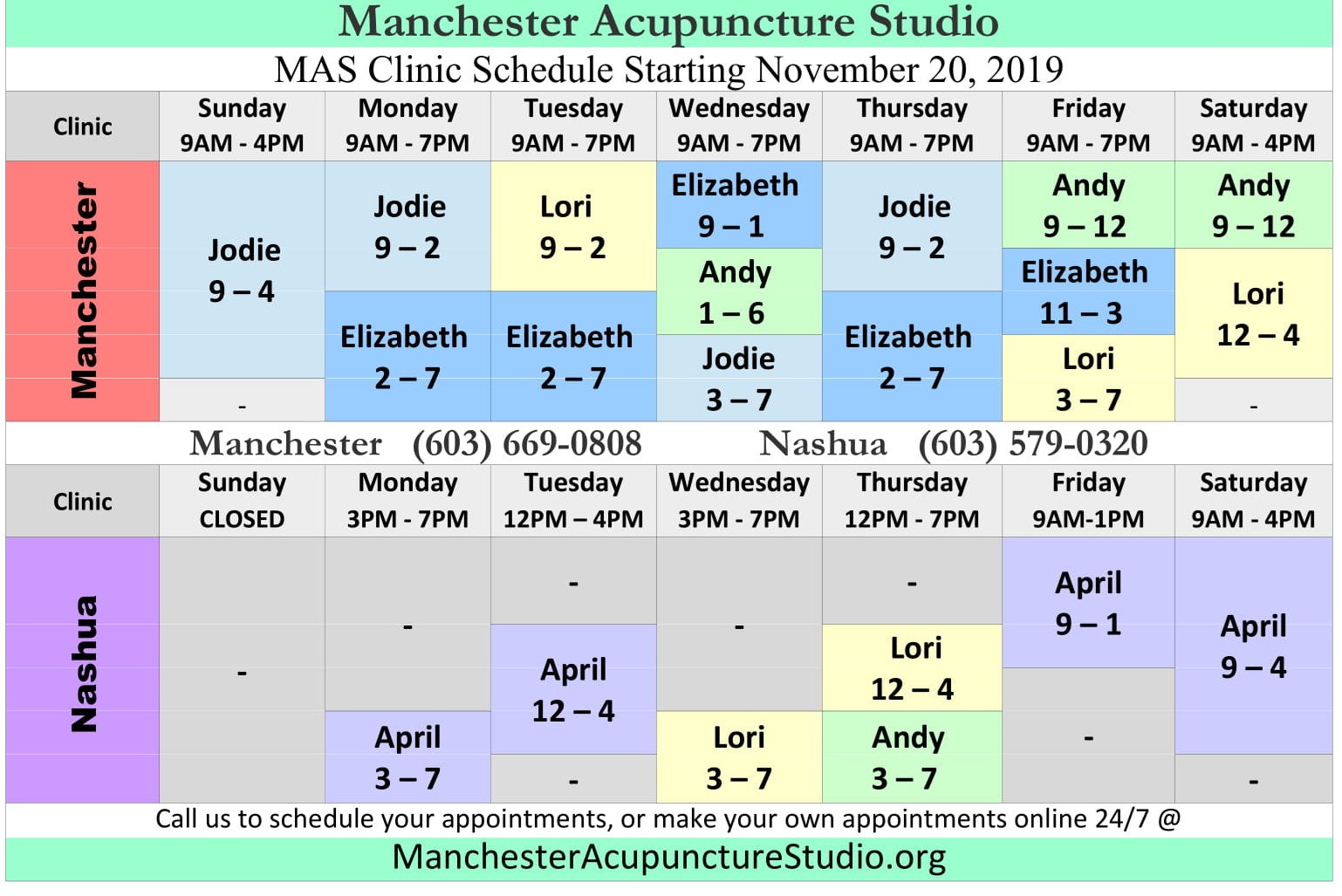 Posted in Manchester Acupuncture