Appointments
In order to book your

first visit

to MAS, please call us in either Manchester or Nashua,
so we can set you up with the necessary information.
Manchester - (603) 669-0808
Nashua - (603) 579-0320

As we're open in Manchester everyday (365 days/year!), and 5 days/week in Nashua at this time, keep in mind we can book your appointment for either location from either location. So if, for example, you don't reach us in Nashua (on say a Sunday when the clinic is closed) call over to Manchester during our working hours and we'll get you set up no problem.
Existing patients who never received an email from MAS with your temporary password, please This email address is being protected from spambots. You need JavaScript enabled to view it. to let us know if you'd like to use the online scheduler, and we will set you up with a password to make this happen.

For existing patients using the online scheduler, please know your email address is your unique username in our scheduling system – it's tied to your account and appointment history. If you'd like to change the email address you use for online scheduling,This email address is being protected from spambots. You need JavaScript enabled to view it. and we'll get that set up for you, no problem. Please don't re-register a second time.
Returning patients, click here to link to the MAS Online Scheduler.


About Walk-Ins

Pre-pandemic, we loved having folks just walk-in without having to make appointments. It was one of our favorite pieces of being available to you, when you need us. Times have changed, however. For purposes of public safety and in order to follow State guidelines, we cannot accommodate walk-ins for the foreseeable future. Please book an appointment online, or give us a call to do so, before heading over to MAS clinics.

Here are the latest clinic schedules (starting July 6th, 2020):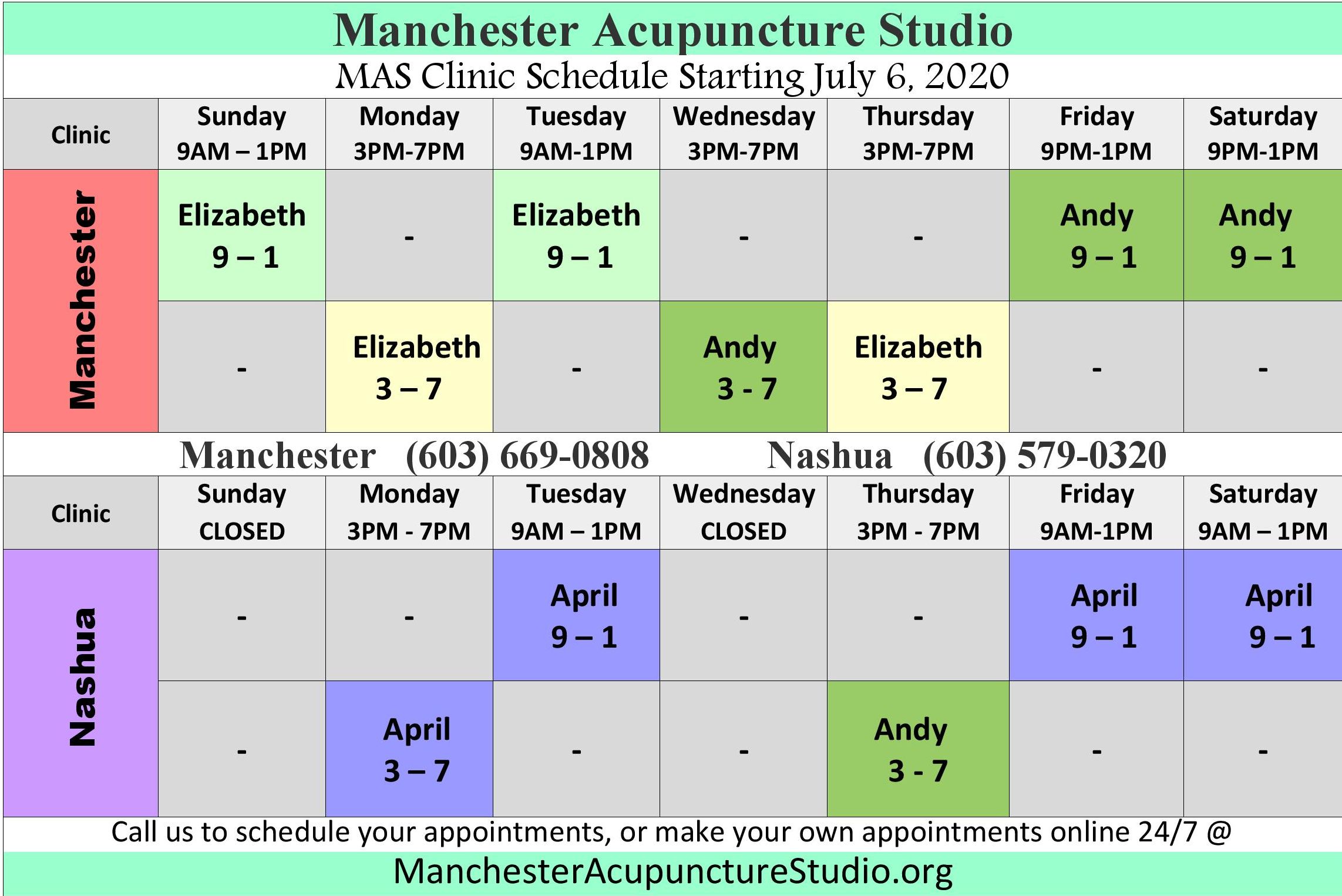 Posted in Manchester Acupuncture