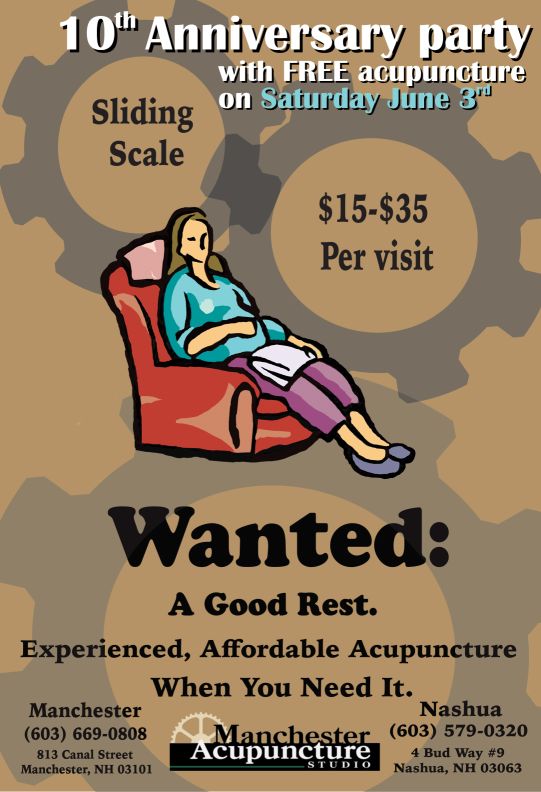 Manchester Acupuncture Studio was established in 2007 in the millyard of Manchester, NH. It's hard to believe ten years have gone by already, but here we are, ten years in and 200,000+ acupuncture treatments later! We have certainly grown from our start in a single treatment room on the ground floor of Stark Mill. From hiring more talented acupuncturists and front desk workers, doubling our treatment space a few years later, having a hand in launching POCA (the People's Organization of Community Acupuncture), opening a second MAS clinic in Nashua and then steering the Manchester clinic to our current terrific home two-plus years ago, it's been an honor to take part in this work. It has been our pleasure to meet so many excellent people in the clinic and around towns, becoming a part of the communities of Manchester and Nashua whom we serve.

The story of MAS is quite simple: endeavoring to offer affordable acupuncture as often as we are able. We are in the final stages of becoming a non-profit, and we have always run our business in a way that places our patients and accessible acupuncture at the forefront. It's been a great ride, and we are all looking forward to continuing to be present and available to you for years more to come.

In this spirit, we welcome all to join us on Saturday, June 3rd in Manchester & Nashua during normal clinic hours for a mellow celebration of 10 years' worth of Manchester Acupuncture Studio and affordable acupuncture in Southern New Hampshire with FREE acupuncture and light refreshments. Bring a friend and put your feet up, on us. We hope to see you there.