General FAQ & The Little 'Needles' Book
Why would I want to have an acupuncture treatment?
Here are a few responses to a question that may have hundreds of
answers...
to help you feel more energized

to help you avoid illness/injury

to help alleviate physical pain

to help you think more clearly

to help you stop thinking (especially around bedtime)

to help with digestive issues including GERD and IBS

to use alongside many conventional therapies/medications for the purpose of augmenting their effect and lowering doses

to add legitimate choices for your health care assistance
Though hardly a complete list of symptoms that acupuncture is known to effectively help manage, we'll offer up a list of 'no-brainer' conditions – that is, situations that should absolutely be treated with acupuncture without hesitation:
Immune system tonification

Neurogenic bladder dysfunction

Vertigo
---
How much does an acupuncture treatment hurt?
Usually not much at all. Most people are deeply relaxed and/or asleep once all points are placed.
---
What's the difference between a visit to a typical acupuncture practice and a community acupuncture practice?
Most acupuncture treatments in the United States take place on a table in a room by oneself. We all know the value of 'power in numbers', right? Would you prefer to eat in an empty restaurant, or one that is full of people and bustling? Or how about an empty movie theater? Us too!

The benefits or sharing treatment space include lower prices, the ability for friends and family to be treated together (often less intimidating for first-timers), and an atmosphere of infectious relaxation. Ever catch someone else's yawn? That's what group treatment is like.

The community setting also allows patients to decide how long their treatment will take, as the 'right' amount of time varies from person to person, visit to visit. This can take anywhere from twenty minutes to a couple of hours. You can stay as long as you feel comfortable doing so – or until we close for the day! When you are feeling as though you are ready to end your visit or need to get our attention, just give us a meaningful look and we will remove your needles or be available otherwise.
Lastly, our clinic employs a sliding-scale fee schedule to help make acupuncture available to the whole community.
---
I don't understand the sliding-scale. Can you explain it to me?
MAS is designed not to make big profits, but to provide a service to the community and a sustainable living to its workers. MAS exists because many patients come to receive treatment, pay on the sliding-scale and tell others about their experience. The sliding-scale in turn ensures many people can afford to come in for treatments.

It is a financial tool to be used as you see fit. You can even pay different amounts at different visits if you'd like. We simply want you to come in often enough to get better and stay better - to give yourself a chance to find out how useful acupuncture can be for you. Our main goal is to make acupuncture treatments available to you as often as you need it, when you need it. It's as simple as this.

Our sliding scale is $20-$40/treatment.* You decide what you pay, no questions asked.

*There is a one-time $10 paperwork fee with the first appointment.
---
What happens during an initial visit?
You'll need to fill out forms which can take a few minutes to finish, so please come 15 minutes early to complete them. Or, you can download these forms and have them filled out as best you can for your visit ahead of time. This helps support us, since it reduces the amount of paper shuffling on our end. The forms are in PDF format.
After paperwork is done, you'll then consult with your acupuncturist to discuss your health concern(s) after which time a treatment plan will be recommended for you. Your acupuncture treatment comes next.
Please wear comfortable clothing. You'll just have to roll your sleeves and pant legs up, in order to get ready for your treatment, as we use styles of acupuncture which allow us to select points primarily on the arms and legs. Once in the treatment room it is your responsibility to be warm and comfortable. We're here to help of course, but please make yourself at home by grabbing blankets, removing shoes and socks, putting all belongings into the plastic bin located next to/behind each chair and extending the chair's foot-rest. Expect to be relaxing during your treatment for about an hour, though the length of time a treatment lasts is ultimately up to each person. We recommend staying at least 20-30 minutes.
---
What happens during a typical follow-up treatment?
After paying for the visit and scheduling future visits (if needed) at the front desk, our patients bring themselves into the treatment room and make themselves comfortable in a recliner of their choice. It's the responsibility of our patients to make themselves warm and comfortable, taking off shoes and socks, turning down cell phones and otherwise getting ready for their needle-nap. After a brief conversation between patient and acupunk chair-side, a specific set of points are chosen. If you need to be up at a certain time, let your acupunk know and we'll do our best to have you awake and finished by then.
---
How does it work/what is it really doing?
This is the million dollar question. The answer is - there is most likely no one answer. Whether seen as a result of particular chemical/hormonal processes, movement of bio-electricity, vascular excitement, regulation of the central nervous system, connective tissue communication, 'placebo' effect, positive thinking or the manifestation of qi, acupuncture works.
---
What can I expect after a treatment?
In general, you can expect to feel relaxed for several minutes to several hours following an acupuncture treatment. Reactions specific to particular injuries or health concerns should be addressed with your acupuncturist on an individual basis. Ask us.
---
What forms of payment do you accept?
We accept, cash, check, and anything with a Visa, Mastercard or Discover card logo - including health saving account cards.
We do not accept insurance coverage, but would be happy to offer a receipt for your visit so you may submit it directly.
Do keep in mind the cost of an acupuncture treatment here at MAS can be substantially less than a discounted rate on a typically-priced acupuncture visit - or even a typical insurance co-pay.
---
If it turns out you have more questions about acupuncture (and why wouldn't you?) consider downloading a free copy of Why Did You Put That Needle There? The Expanded Second Edition in English or Spanish.
'Needles' is a no-nonsense question and answer guide intended for folks who are new to acupuncture, or for those of us who'd like just a little more insight, in plain-speak. Culled from actual questions most often heard in clinic, this book offers our best clear and honest answers.
For a printed version in English, right-click on the image below and select "Save As" to save it to your computer. It'll download to you as a PDF. A printed Spanish version is also available HERE.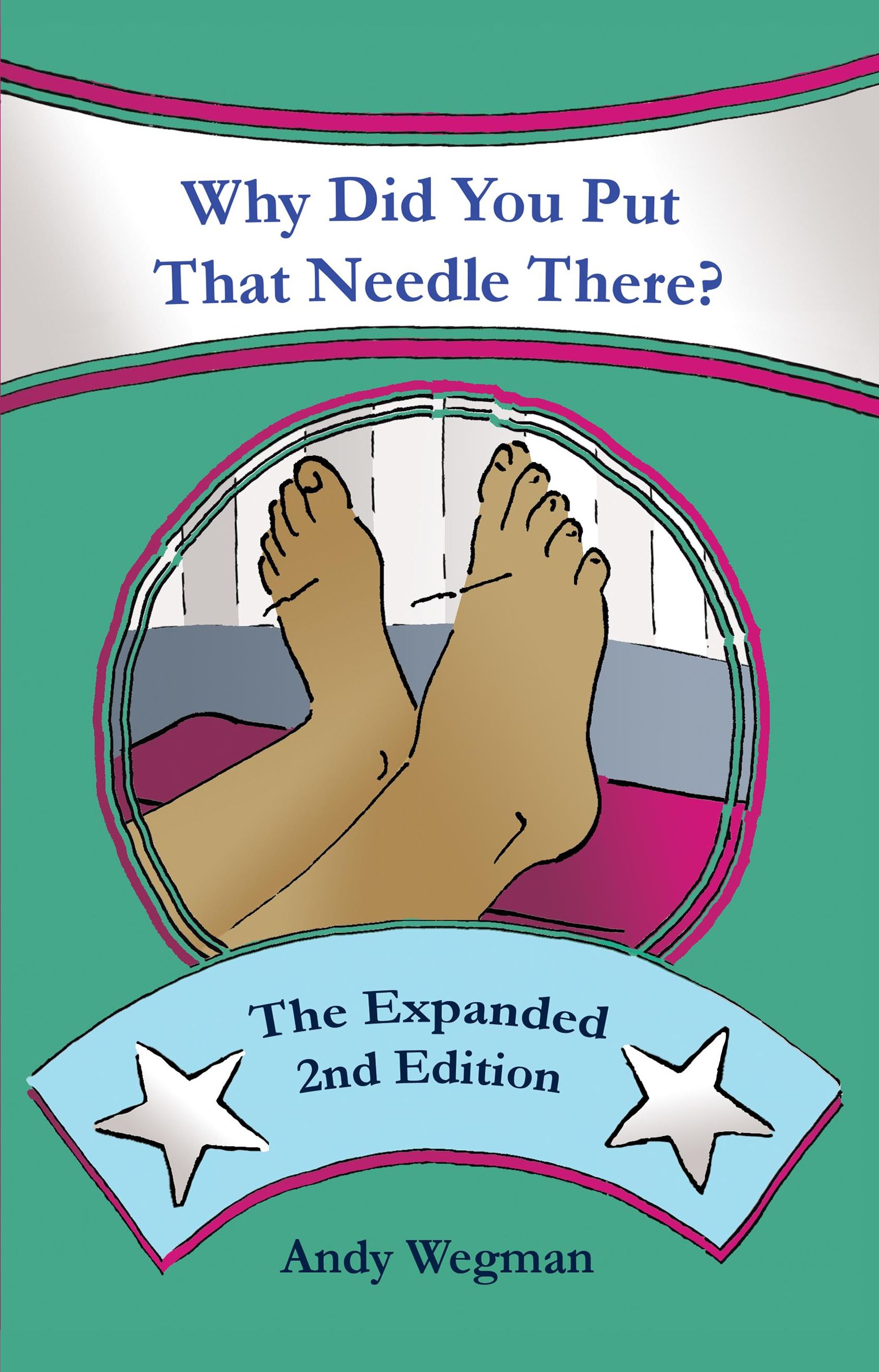 Feel free to listen to the audio version read by Andy Wegman, use the players below:
Part 1

Part 2

Part 3
Bound, soft-cover versions of the book (perfect for giving to friends, relatives and co-workers who are intrigued about acupuncture) are available at our clinics, dozens of other community acupuncture clinics around the country or via Amazon.com.
Acupuncturists and Clinics interested in wholesale purchases of five or more copies, please write us here.
Posted in Manchester Acupuncture