Patient Resources
Who we are

Manchester Acupuncture Studio is a community acupuncture clinic, and 501(c)3 non-profit organization. Community acupuncture is a social-business model that aims to increase patient access to acupuncture by offering treatments in a comfortable group setting and fees on an affordable sliding-scale, without income verification. By doing so, more people have the chance to get treated as often as they need in order to find out how useful acupuncture can be, we are able to create sustainable jobs for acupuncturists and work-fellows, all while engendering a warm community atmosphere between clinic-goers and staff.

It's a winning endeavor for both patients and the clinic.
We provide affordable acupuncture and still make a living. We are a sustainable business model that offers a service that people need and can afford. As long as we serve enough patients paying along the sliding-scale, we stay in business.
Are you wanting to find clinics like MAS for your loved ones outside of Manchester & Nashua?
Head over here to find community acupuncture clinics across N. America and beyond.

What to expect during your first visit

During your first visit, we'll sit and share information together. The goal here is to figure out a plan to start moving things forward for you. Once we establish a treatment plan, we'll move into the treatment room where you take a seat in a recliner of your choice, take off your shoes and roll up your sleeves and pant legs. From here on out, your job is to kick back and enjoy a good rest. Your job is to be warm and comfortable. A typical treatment will last from 30 minutes to 90 minutes, depending mostly on how long you'd like to stay.
Find many more frequently asked questions and answers here.
Download The MAS Registration Form
How To Find Us
Find maps and automated directions at the bottom of the home page.

MAS – Manchester
895 Hanover Street
Manchester, NH 03104
669-0808

This address is inside of the East Side Plaza, an good-sized older plaza about 1/2 mile from exit 6 on I-93.
When driving into the plaza, we're on the left, next door to Aloha Restaurant.
The East Side Plaza is also easily accessible from downtown via Hanover Street (naturally!), Mammoth Rd. and/or Valley Streets.
A metric ton of free parking is available here!

MAS – Nashua
4 Bud Way #9
Nashua, NH 03063
579-0320

4 Bud Way is the last building on the left on Bud Way. Look for the menu board with our sign included which sits just to the right of the building itself.
Find lots of parking in the lot directly in front of 4 Bud Way. In addition, free parking is available along the left & right sides of the building. You'll find the entrance to the clinic at the front of the building, on the right-hand side.

Our Schedules

When are we open? As often as possible! In order to be here when you need us, we prefer to offer as many poking hours as we can muster. We are always working to create more hours to offer acupuncture for you.
Manchester Hours

Sunday: 9am – 1pm
Monday: 3pm – 7pm
Tuesday: 9am – 1pm
Wednesday: 3pm – 7pm
Thursday: 3pm – 7pm
Friday: 9am – 1pm
Saturday: 9am – 1pm
Nashua Hours

Sunday: closed
Monday: 3pm – 7pm
Tuesday: 9am – 1pm
Wednesday:

closed


Thursday: 3pm – 7pm
Friday:

9am – 1pm


Saturday: 9am – 1pm
The current Clinic Schedule, beginning Monday, July 6th: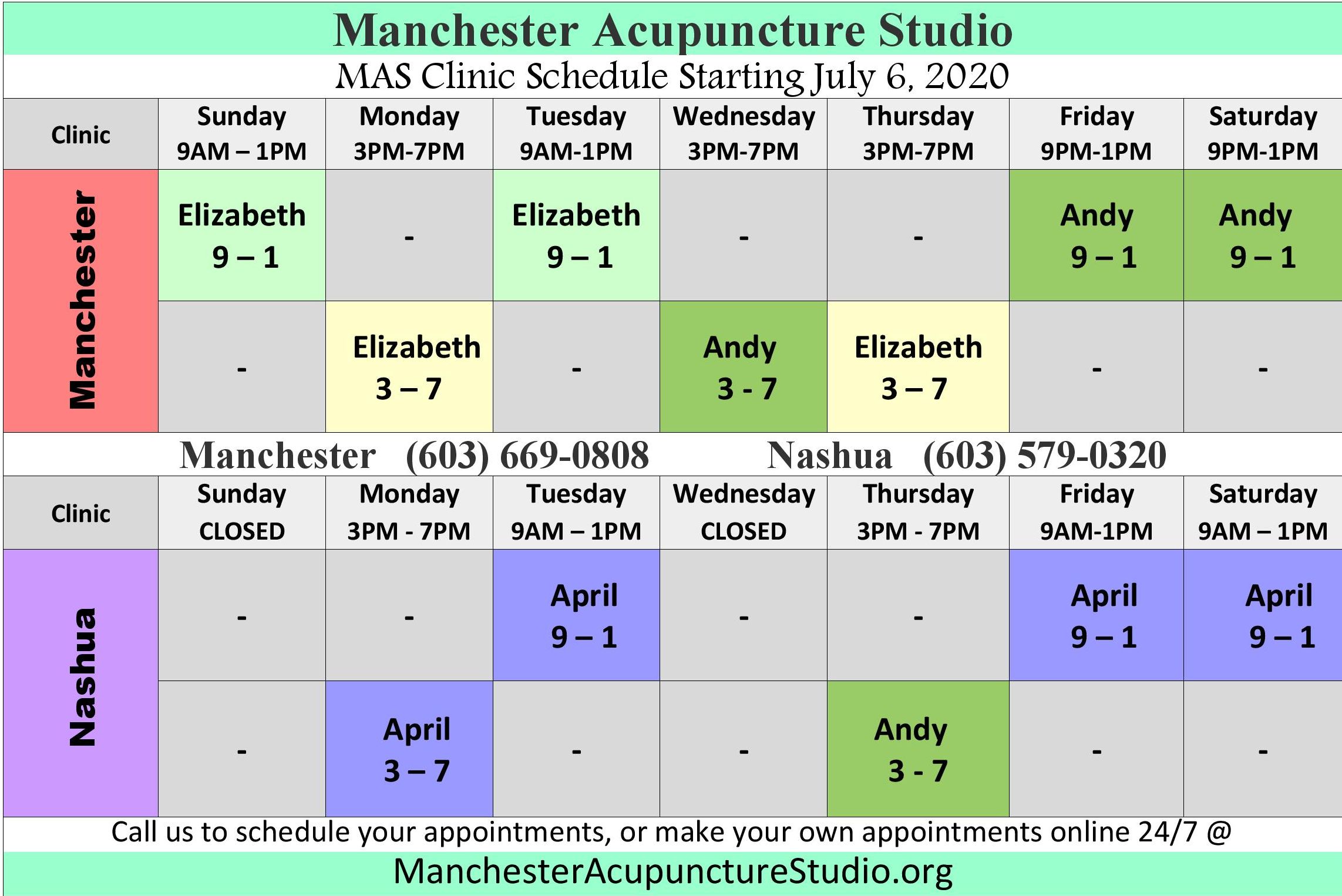 Posted in Manchester Acupuncture